Translation
Translation into Your Choice of 60 Languages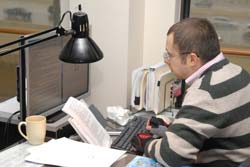 UNIVERSE specializes in translation of technical, legal, and commercial documentation. All UNIVERSE translators are technically qualified native speakers. Our translations are precise, authentic, and exactly comparable to the original, including technical terminology. All translated material is checked by a separate, equally qualified native speaker. UNIVERSE translates the following:
Technical manuals
Engineering documents, specifications, drawings
Tenders, bid documents, inquiries, proposals
Reports and studies - feasibility, environmental, geophysical, geological, etc.
Patents, contracts, and other legal documents
Marketing and advertising brochures, catalogs, audio-visual presentations
Magazines, periodicals, scientific journals
All of the above will be produced for you electronically and as a hard copy in the language of your choice and in the file format you desire.
UNIVERSE will provide certification and notarization of our translations. Legalization of the translated documents through proper governmental bodies is available.
LANGUAGES
WE TRANSLATE & INTERPRET

Arabic
| Azeri | Bahasa | Bulgarian |
Chinese
| Croatian | Czech | Danish | Dutch | Estonian | Farsi | Finnish | Flemish |
French
|
German
| Greek | Hebrew | Hindi | Hungarian |
Italian
|
Japanese
| Kazakh | Korean | Latin | Latvian | Lithuanian | Malay | Norwegian | Polish |
Portuguese
| Romanian |
Russian
| Serbian | Slovak |
Spanish
| Swedish | Tagalog | Thai | Turkish | Turkmen | Ukrainian | Vietnamese |



Meet the President
Marion Rifkind
Founded in 1981, UNIVERSE has since become one of the largest and most respected companies in the foreign language translation industry.